NEWS / ARTICLES / CASE STUDIES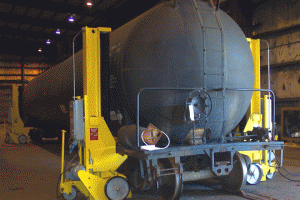 Portable electro-mechanical jacks are being produced by Whiting Corporation to lift and lower heavy diesel power units and generators on diverse and remote inland and coastal sites.
The 25 ton specially modified portable electric jacks – first deployed in a set of four to lift truck-length power generators – are based on Whiting's proven and reliable MA locomotive jacks, used to hoist rail freight and passenger cars for building, maintenance and overhaul.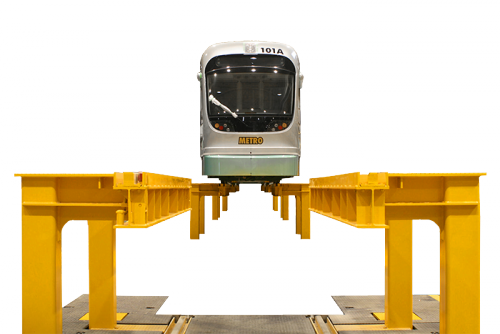 With an estimated daily ridership of over 45,000, and growing, Phoenix's Valley Metro light rail transit system has already grown to become the 12th busiest light rail system in the country, despite only commencing operations in 2008.
The Valley Metro light rail system provides public transportation for central and downtown Phoenix, as well as areas of Tempe, and uses state-of-the art light rail vehicles, offering passengers a frequent and reliable service.
To ensure this reliable service is continued during the maintenance and repair operations of the ultra-modern rail cars, Whiting car hoists have been installed in the rail system's Operations and Maintenance Center.
Today is the last day of the American Public Transportation Association's APTA Expo! We have loved meeting with so many…
Welcome to Railway Interchange 2023! We're excited to be here with railway professionals from around the world to network, share,…
Whiting Corporation, a leading manufacturer of rail maintenance lifting equipment, achieved more than 750 days worked without a lost-time incident….
There are only a few hours to check out the expo at the American Public Transportation Association's Rail Conference in…
Whiting Corporation is excited to announce our single focus as the premier supplier of rail maintenance equipment and service. This…
Your Rail Maintenance Equipment serves a vital role in maintaining the operational efficiency of your rail cars and locomotives. The…
Whiting Single-Truck Turntables utilize a center mounted rotek-type bearing for their reliability and ease of use.
Whiting turntables are extremely rugged, well-balanced, and are suitable for the heavy demands of transit and freight maintenance shops.
Using the telescopic handle, the manual turntable is easy to rotate, and with the rails aligned, the handle locks into place and collapses out of sight.
Single-truck turntables are able to rotate the truck in 90 degree increments making it critical for moving trucks between the car service track and truck repair hoists in modern maintenance shops.
Whiting can custom-engineer a manual or motorized turntable in any configuration, size or capacity to suit your exact specifications.
With minimal routine maintenance needed, Whiting turntables are known for their long term reliability and safety in maintenance shops across North America.
Whiting Corporation Elevates American Transit. 

Whiting's truck repair hoists range in size from 9-22 Tons, and are an integral part of the car hoist maintenance system in many modern transit and freight maintenance shops.
A truck repair hoist's primary purpose is to increase shop safety and efficiency by providing maintenance personnel with a convenient access height for the inspection, maintenance and repair of the truck.
Using a rugged and proven electro-mechanical steel-alloy screw and bronze-alloy nut design, the two-screw Truck Repair hoists offers self-locking nuts along with steel safety nuts as backup for added failsafe protection.
Added features like over travel limit switches help make the Truck Repair Hoists one of the safest pieces of equipment in your maintenance shop.
With minimal needed routine maintenance, Whiting Truck Repair Hoists are known for their long-term reliability, open design for easy truck servicing and safety in maintenance shops across North America.
Our Shipping and Receiving department is the hub of Whiting's manufacturing. Precise attention is given to all aspects of the supply chain to ensure all finished goods are packaged and shipped to exceed customer expectations.
All Coming Together For One Goal, Customer Satisfaction.
For more information call 888-Whiting.