Whiting's mechanical, structural, electrical and analytical engineering teams design and produce cranes that meet practically any industry challenge. Whiting also has pre-engineered designs for low cost and rapid delivery.
When your locomotives and rolling stock need maintenance, it is essential that your lifting equipment be reliable. Whiting is the leader in lifting equipment for rail applications including manufacturing, service and repair.Whiting freight railroad lifting equipment includes overhead cranes, transfer tables, sanding cranes, turntables, portable electric jacks, drop tables and car progression systems.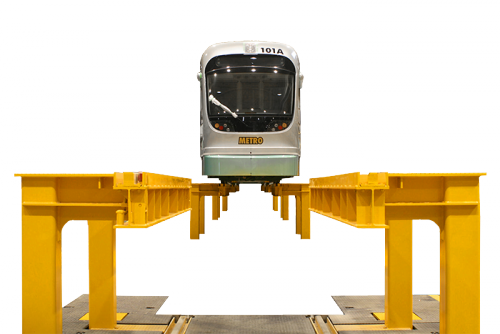 Whiting is a leader in manufacturing dependable lifting equipment for the rail transit industry. We offer overhead cranes, drop tables and portable electric jacks for maintaining locomotives. We also offer car hoists, body hoists and body supports, truck repair hoists, turntables, portable electric jacks and car progression systems for maintaining transit cars.
Have rail data at your fingertips like never before!! Easily identify problems like pitting and rail head damage and pinpoint precisely where the problem is located on the rail.