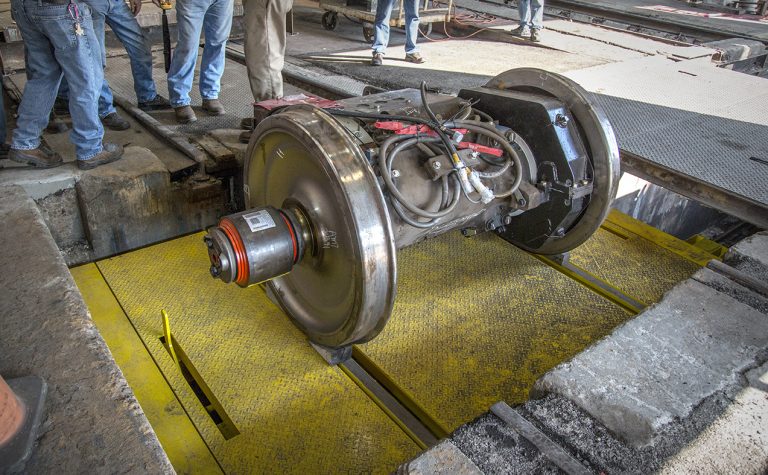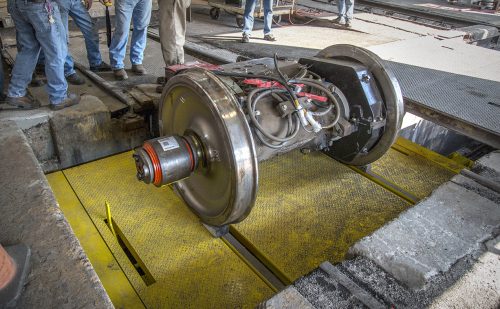 Single Axle Drop Tables Increase Throughput and Safety in Your Maintenance Shop
In the world of modern railcar maintenance, Whiting understands the critical demands placed on equipment. Rail drop tables and Single Axle Drop Tables are integral to the smooth operation of maintenance facilities. Crafted with uncompromising quality standards, these tables are built to withstand the harshest conditions. Experience the exceptional features and longevity of Whiting Single Axle Drop Tables.
Whiting Single Axle Drop Tables: A Durable Solution
Whiting's Single Axle Drop Tables are meticulously engineered to cater to the unique needs of your railcar maintenance facility. With a relentless focus on long-term reliability and ease of maintenance, these tables provide the ideal solution for efficient and trouble-free operations.
Flexible Design Options: Whiting recognizes that no two railcar maintenance facilities are the same. Hence, the flexibility in design options ensures that each Single Axle Drop Table is customized to meet your specific application requirements. This tailored approach guarantees seamless integration into your workflow, ultimately enhancing productivity.
Pre-Assembly and Load Testing: To further streamline your railcar maintenance processes, all Single Axle Drop Tables are pre-assembled and rigorously load tested before delivery. This meticulous testing process ensures that all performance specifications are met, reducing the likelihood of complications during installation. Consequently, the time needed to complete start-up is significantly shortened, enabling your facility to function at its full potential sooner.
Learn More About the Whiting Single Axle Drop Table
Hoisting Speed
Dual Speed for Quick and Accurate Hoisting – 2 Feet Per Minute (Slow) and 5.4 Feet Per Minute (Fast)
Hoisting & Traversing Motors
Standard 460 Volt/3 Phase/60 HZ VFD Motors with Motor-Mounted Brakes
Safety
PLC-Based Control System with Interlock Maximizes Operator Safety
Quality Procedures
Welded to AWS D1.1 Standard with Section 6.1 Inspection. Whiting Monitors All Work and Materials Under an ISO 9001:2015 Certified Quality System
Optional Equipment For Single Axle Drop Tables
Why Whiting Single Axle Drop Tables?
Whiting Drop Table Lasts 66 Years and continued working after Hurricane Katrina
Whiting has a remarkable track record in the railcar maintenance industry, characterized by long-lasting, high-performance equipment. A testament to this is a veteran railway lift table that continued working even after the catastrophic Hurricane Katrina floods in New Orleans. This particular Whiting Drop Table, a 60-ton four-screw lift table, entered service in 1949, making it an industry stalwart.
Despite being submerged for two weeks during the hurricane, this heavy-duty Whiting Drop Table required only minimal maintenance to get it back into operation. The lifting screws were regreased, and the motors were rewound before it was put back into the pit. Astonishingly, it ran for another 10 years, showcasing the exceptional durability and robust manufacturing of Whiting's mechanical and electrical components.
Whiting Single Axle Drop Tables are a testament to durability, performance, and reliability. Whether you require flexible design options, pre-assembly, or load testing, Whiting has your railcar maintenance needs covered. Trust in Whiting's legacy of excellence and choose Single Axle Drop Tables that are built to last and excel in the toughest conditions.