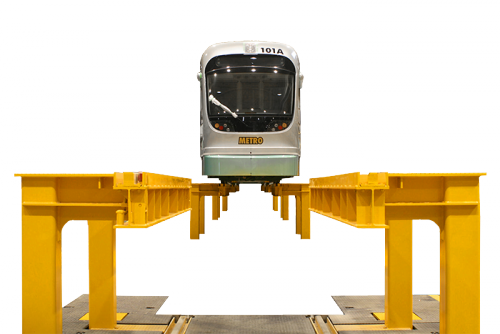 With an estimated daily ridership of over 45,000, and growing, Phoenix's Valley Metro light rail transit system has already grown to become the 12th busiest light rail system in the country, despite only commencing operations in 2008.
The Valley Metro light rail system provides public transportation for central and downtown Phoenix, as well as areas of Tempe, and uses state-of-the art light rail vehicles, offering passengers a frequent and reliable service.
To ensure this reliable service is continued during the maintenance and repair operations of the ultra-modern rail cars, Whiting car hoists have been installed in the rail system's Operations and Maintenance Center.
The Whiting car hoists are the central component of an innovative and efficient deep pit pass thru system, which allows a disengaged rail car truck to pass under a truck that has not been removed.
The Valley Metro rail cars, weighing over 50 tons, are married-pair type cars with three trucks per car. With the Whiting pass thru system, workers can easily remove one truck and push that truck underneath another truck.
Ken Raghunandan, LRV Maintenance Superintendent at Valley Metro Rail's Operations and Maintenance Center, said he is very impressed with the operation and efficiency of the Whiting car hoists.
"We have two of Whiting's car hoists in our shop, with one used at least four times a week for preventive maintenance work. The other car hoist is not used quite as much, mainly for corrective maintenance work when the other car hoist is being utilized. Both car hoists are very reliable and have never let us down, which is vital for the timely maintenance and repair of our rail cars," he said.
Mr. Raghunandan explained that a wide range of preventative maintenance work is performed at the operation and maintenance center, including daily, weekly, monthly, quarterly and yearly inspections of the rail cars.
"When the trucks on the rail cars are being replaced, the cars can be raised on the car hoists for up to 16 hours.  However, we also do a significant amount of other work at those times, such as flushing and bleeding the brakes or changing brake fluid. The Whiting car hoists raise the rail cars to a very convenient height for worker access to the underbody components, plus they are very simple to operate; very straightforward," Mr. Raghunandan said.
He explained that there are around 45 personnel in the maintenance department, including technicians, inspectors, supervisors and car cleaners.
"We are all very confident in the operation of the Whiting car hoists, despite the huge weights they are lifting," he said.
To ensure the complete safety of workers, the rail cars are lifted, lowered and then secured mechanically onto body stands.
"I can say that I'm very pleased with the performance and reliability of the car hoists and the support provided by Whiting. I was trained on the operation of the hoists by Whiting employees and was very impressed with their professionalism and complete knowledge of their equipment," Mr. Raghunandan said.
George W. Shaffer, Railcar Maintenance Systems Specialist with the Whiting Corporation, says Mr. Raghunandan's comments are not unique.
"Whiting equipment is well known for its longevity and reliability. All of our hoists are designed to last for 40 to 50 years, or even longer. In fact, many of our customers have equipment that was purchased in the 1950's and 1960's and they continue to use it to this day," he said.
Mr. Shaffer says that no one can match Whiting's reliability and durability in providing railcar maintenance equipment.
"We have noticed over the years that companies sometimes approach us because they are looking to replace existing systems bought from competitors who haven't been in the industry as long as Whiting has.  Because of our superb track record of delivering reliable products, many of those systems have been pulled out and Whiting systems have instead been installed," he said.
Mr. Shaffer explained that Whiting's custom built hoist systems are offered in deep and shallow pit designs below the shop floor.
"Above the shop floor they can be standard or "C" frame (pass thru) designs.  The in-floor equipment is designed and built using a common base.  This allows for complete shop assembly and also functional and load testing of the equipment in the factory prior to shipment. Building on a common base also allows for simplified equipment installation and also permits the equipment to be shipped to the customer and installed as one complete unit," he said.
For other railway companies looking for rail maintenance equipment, Mr. Shaffer says they should take a close look at a company's past record on reliability.
"They should investigate whether the company has a parts department, with a reliable supply of spare parts in their region of the U.S., and a service department for this type of equipment.  Whiting is the only company that offers a fully staffed parts department and a fully staffed service department with five regional offices around the U.S. Others just don't have that service," he said.
Mr. Shaffer went on to explain that dependable, service-tested Whiting rail maintenance equipment is available in a variety of arrangements to speed maintenance and reduce costs and downtime.
"Electric motor powered multi-hoist units can be arranged to lift single or coupled rail cars, with all units synchronized and interlocked to maintain minimum elevation variations. The use of the mechanical screw and nut principle allows hoisting and holding at any position within the complete range of the hoist. Whiting offers design and layout services to suit the requirements of both customers and potential customers. In addition to hoisting and holding, all equipment for car and train moving are all available from a single source," Mr. Shaffer said.