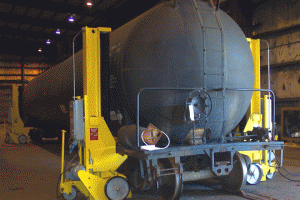 Portable electro-mechanical jacks are being produced by Whiting Corporation to lift and lower heavy diesel power units and generators on diverse and remote inland and coastal sites.
The 25 ton specially modified portable electric jacks – first deployed in a set of four to lift truck-length power generators – are based on Whiting's proven and reliable MA locomotive jacks, used to hoist rail freight and passenger cars for building, maintenance and overhaul.
The customized low-maintenance transportable jacks, each weighing about 3000lb (1361kg), feature an effective lifting height of six feet (1829mm) with built-in safety and versatility features, including:
Modified lifting brackets to suit the particular lift
Front bearing pad extensions to enhance stability
Connecting pins to interface with customer-supplied lifting components
Upper over-travel limit switches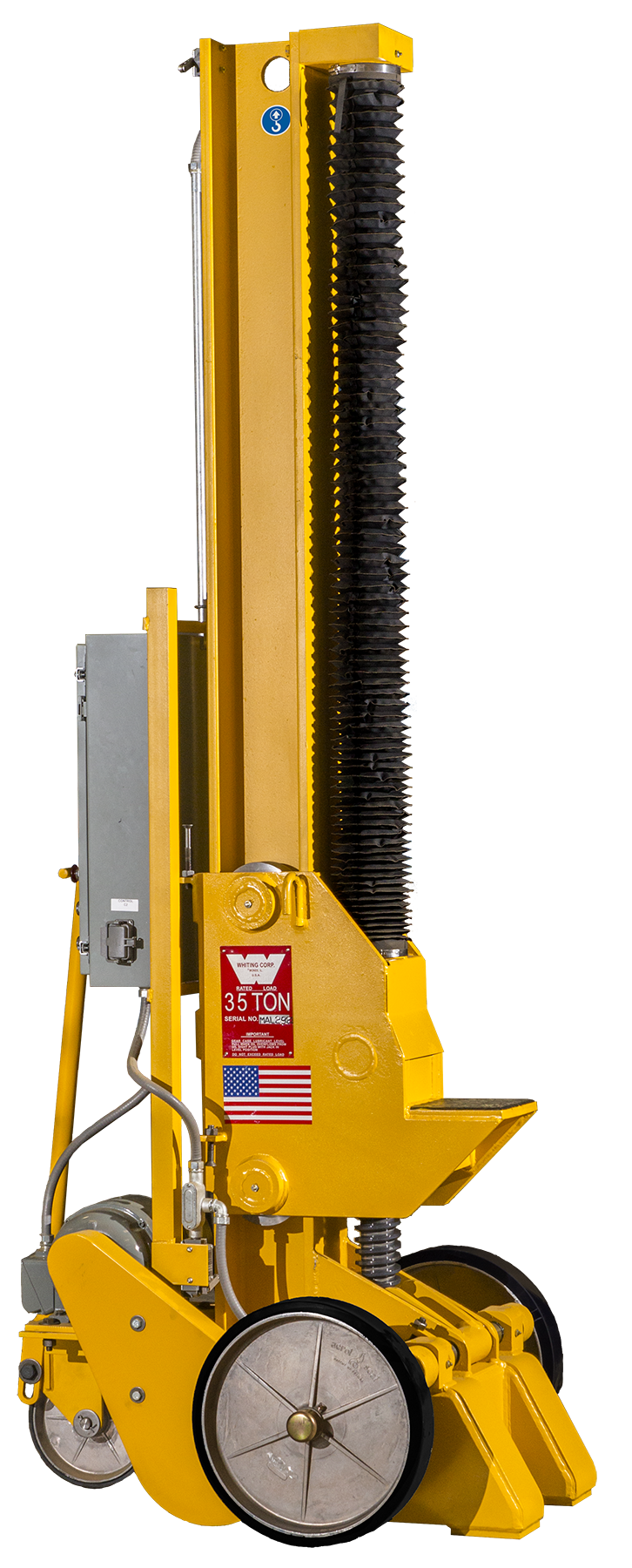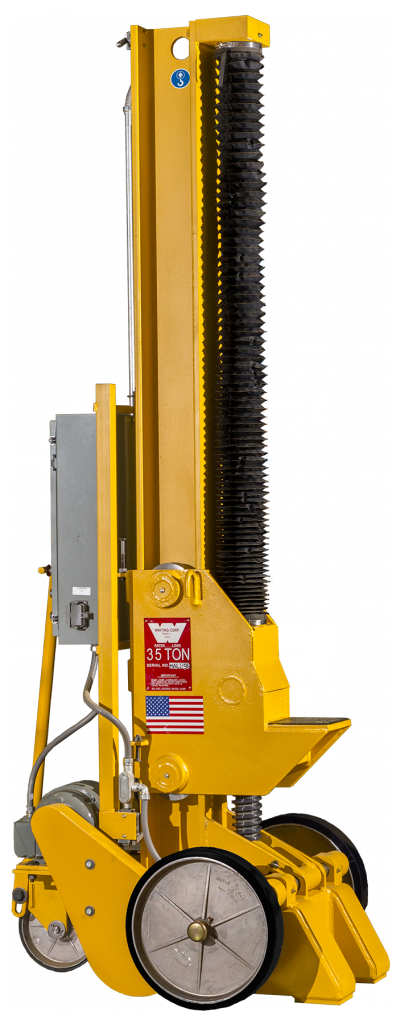 "The initial set was to be deployed globally, wherever the power units were required. This same versatility lends these jacks ideally to applications where portable and safe heavy lifting is required over diverse sites, including infrastructure, construction and transport," says Ed Slota, Director of Product Engineering at Whiting Corporation.
While the initial set is powder coated for enhanced corrosion protection, they also feature the same rugged construction as standard Whiting portable electric jacks used in various demanding heavy transport applications, with a massive structural steel column assembly welded to the base and housing an alloy steel jackscrew containing a worm and worm gear.
A single operator manning a portable electric jack station controls the simultaneous operation of multiple jacks, which can be equipped with a variety of special lifting brackets to suit particular tasks. Whiting portable electric jack technology is designed to complete heavy duty applications that keep equipment online with minimum downtime.
The combination of a reversible electric motor, along with an integral disc brake and worm gearing, contributes to the outstanding driving power of the Whiting portable electric jack.
Structural features
Central to the strength and durability of Whiting portable electric jacks– in capacities ranging from 25-60 tons (22.5 to 54 tonnes)– is a structural steel column assembly which houses an alloy steel jack screw, complete with precision machined buttress threads and an aluminium bronze lifting nut. The screw is keyed to the worm gear and is supported by a large thrust bearing. The jack nut travels on the screw and supports the lifting bracket, and an all-welded steel frame adds further strength to the column assembly. The result is a Whiting portable electric jack with dependable load-lifting capacity at any point within the lifting range of the jack system.
Whiting is the only manufacturer to use a buttress thread design instead of other thread screw arrangements. The buttress thread has proven to be a robust design that has been successfully and reliably used in service on several types of railcar lifting equipment manufactured by Whiting.  Whiting has been exclusively using a buttress thread design in their jacks since the 1920's, and has never experienced a screw failure in over 90 years.
Reliability is carefully engineered into every Whiting portable electric jack. The outstanding buttress thread design and top quality construction of Whiting jacks provides years of dependable service with minimal maintenance and downtime. This continuous level of time proven quality has established Whiting as the foremost manufacturer of portable electric jacks in the world.