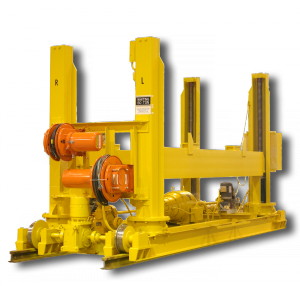 For over 70 years, Whiting has been a trusted name for freight and transit railcar maintenance and lifting equipment.
Whiting Corporation has been instrumental in the development of the Drop Table concept and is responsible for many of the added values and practical features found in today's modern systems.
In collaboration with major railroads, Whiting has designed and developed Drop Table mechanisms that can be found in almost any major heavy locomotive repair shop throughout the country and the world
A drop table is designed for the removal, and inspection, maintenance and repair of locomotive or rolling stock wheelsets.
To remove drive wheels or trucks with a Drop Table, the locomotive is located and supported over the table top, where the trucks are disconnected, lowered, transferred laterally and raised to a release track. The trucks can then be moved to a maintenance area where inspection and repair can be performed quickly and efficiently.
Whiting Drop Tables are available in single, double or triple axle configurations, wheel set change outs are fast, easy and efficient and don't require overhead cranes or jacks to lift the vehicle off the rails.
Whiting's experienced engineers design the drop tables for easy maintenance and equipment longevity in harsh environments that also provide maximum operator and machine safety.

Like all of our railcar maintenance equipment, this single axle 60-ton drop table is functionally tested before shipping to reduce installation time and ensure the rugged and reliable equipment will work for years to come.