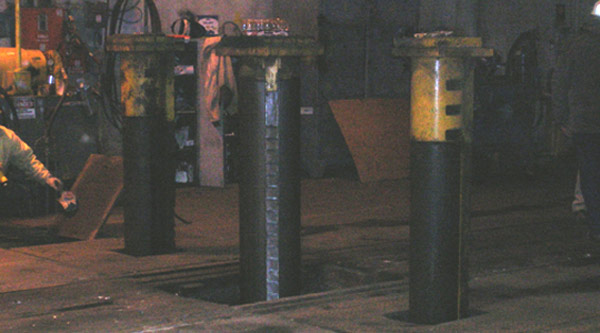 Rip (Repair In Place) Jacks are furnished by Whiting for use in Rip track operations.
Features & Benefits:
Operator Control Console
Whiting Rip Jacks feature a remote operator console so the operator does not need to be close to the freight car during the repair operation.
Three Parallel Hydraulic Lifts
Freight cars can be lifted either by the side sill or the center sill of the car.
High Lift Capacity
The lift capacity of the jacks on the left and right hand side extremities is generally 75 tons each, while the capacity on the center lift is most commonly 150 tons.
Operational Safety Features
Raising a car off the track facilitates access to the underbody of the car for repairs.
Workflow Improvement
The use of this equipment also leads to increased car utilization as the work flow in end of car operations, such as changing out draft gear, is now completed in a shorter time period.