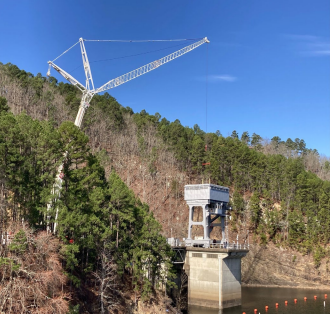 Whiting Services was called to a repair on a 1949 vintage Whiting 100/20-ton Outdoor Gantry Crane at a dam used for lake water level control & power generation. One of the hoist drum stub shafts was damaged beyond repair during a wire rope replacement.
Whiting Services Inc. (WSI) partnered with the customer to coordinate the replacement of the damaged drum shaft and bearings. Along with WSI technicians the customer deployed their extremely qualified crane crew team to provide access to the hoist drum and assist WSI in completing this drum stub shaft replacement. This project could not have been completed without their assistance.
WSI coordinated with Barnhart Crane to supply a 500-ton mobile crane to lift and support the 30,000 lbs. hoist drum to allow the damaged drum stub shaft to be replaced. WSI also coordinated with Meuwly Machine Works, Inc. to facilitate removing the damaged drum stub shaft and installing the new one. Once the mobile crane was in place and ready to lift / support the hoist drum it took approximately 14- hours to complete this drum stub shaft replacement which included an operational / function test of the hoist.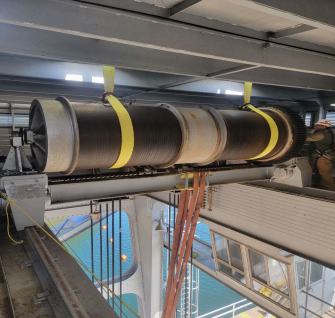 WSI planned / coordinated the drum stub shaft & bearings replacement in place without removing the hoist drum and transporting to the machine shop for replacement. This is estimated to have saved the customer approximately 3 days of downtime and additional cost.
This 1949 vintage Whiting 100/20- ton Outdoor Gantry crane is back in operation. Seventy (70) plus years of dependable service is proof of the quality standards this crane was built to, paired with and WSI's support many years later. This project is a testament to the fact that when people very good at what they do work together, nothing is impossible.
For more information on Whiting Services offerings, visit our website or call 800-336-7900