Since 2003, ME Elecmetal has sought to be the preferred supplier of value-added solutions for mining, construction and industry. The foundry location in Tempe, AZ is responsible for 90 managerial, office, administrative and support employees, as well as 60 metal casting tradespersons in the foundry every day.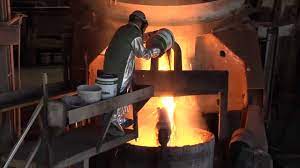 They recently celebrated a significant safety milestone achieved because of their "commitment to a safety culture focused on the health of our people and our environment," said Scott Schudalla, Vice President of ME Elecmetal/ME Global.
In accordance with that safety focus, ME Global recently approached Whiting Corporation to design and build a heavy duty, class 'D' overhead crane that supports the harsh environment of the foundry and promotes the stringent company standards.
With the Whiting crane, all of the crane controls will be protected from the environment within the operator's cab. Previously, ME Global was forced to replace existing control drives at a cost of approximately $65,000 because of the "hot top" debris generated during their process. This debris is conductive in nature and has a tendency to get into the instrumentation. Additionally, having the controls inside the cab avoids the need for strategically located heat shielding on the undercarriage of the crane to reduce the radiant heat to the controls.
Operator safety is equally important to ME Global in this new crane. Whiting Corporation has designed a solution that allows the operator to safely exit the crane in case of power loss or emergency evacuation. Furthermore, it has safety spotlights that shine onto the floor to show pedestrians or nearby operators where the crane is positioned above them. The crane has also been retrofitted to work with ME Global's existing onboarding platforms. Whiting adjusted the height and designed the walk support and gate to accommodate safe transition from the building onto the crane.
In addition to operating safely, ME Global wanted to ensure that they partnered with a company that offered proven quality and reliability. Based on the volume of work being done at the Tempe location, any downtime costs them approximately $20,000 per hour. They chose Whiting Corporation, a leading manufacturer of heavy-duty overhead cranes and railcar maintenance equipment. Whiting overhead cranes serve a variety of industries including steel mills, automotive plants, foundries, fossil fuel plants, metal service centers, refuse facilities, hydro-electric plants and nuclear power plants. Whiting Corp's quality products, in addition to their own commitment to safety and excellence, made them the natural choice for this crane.