Whiting Corporation, located near Chicago, Illinois, is a major manufacturer of heavy-duty overhead cranes and railcar maintenance equipment.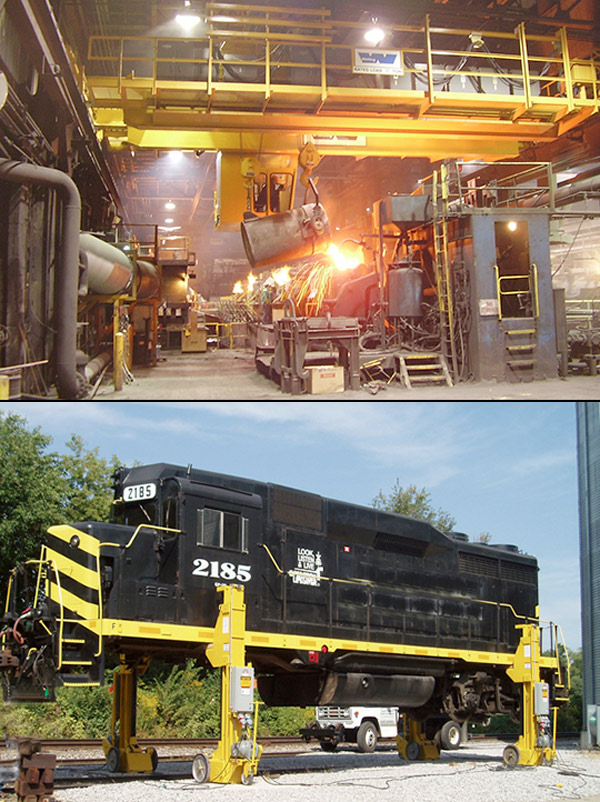 Whiting overhead cranes serve a variety of industries including steel mills, automotive plants, foundries, fossil fuel plants, metal service centers, refuse facilities, hydro-electric plants, and nuclear power plants. Additionally, Whiting is a trusted name for railcar maintenance and lifting equipment for the freight and commuter railroad industries, municipal transit authorities, railcar builders and independent maintenance shops.
Our state-of-the-art manufacturing facility houses the Whiting corporate offices, as well as almost 170,000 square feet devoted to manufacturing. Our facility is a fully-equipped, integrated manufacturing facility with a complete machine shop for material preparation, fabrication, machining and component assembly and testing.
We are ISO 9001:2015 certified and we are a proud U.S. manufacturer.
Our building also houses the headquarters and a regional office for Whiting Services, Inc., which specializes in the maintenance and inspection of not only Whiting overhead cranes and railcar maintenance equipment, but of similar equipment made by other manufacturers as well. For all the products Whiting manufactures, and for all other brands of similar equipment, Whiting and Whiting Services provide complete engineering, sales, support, parts and maintenance and inspection services to our customers along every step of the way.