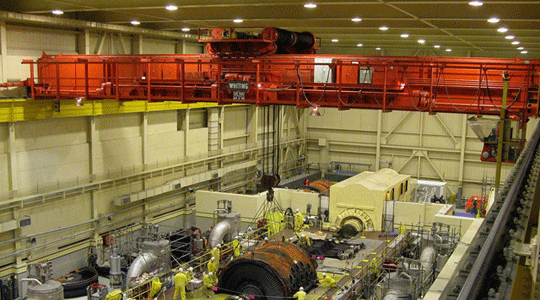 Turbine Room Overhead Cranes
Turbine room cranes in nuclear power plants have essentially the same requirements as those for fossil fuel or hydro-electric plants. They are normally classified as Type III, a crane not used to handle critical loads and not subject to the strict regulation of the Nuclear Regulatory Commission(NRC). While turbine cranes are not classified as lifting critical loads as defined by to NRC, turbines are very expensive pieces of equipment, so the durability and maintainability of the crane are important for protecting your investment and up time.
Turbine cranes also require accurate positioning for spotting loads during installation, maintenance or removal of the turbine and related equipment. Whiting can help with your plant design or re-design. For specific answers to application questions, please contact the Whiting Nuclear Power Team at (800) 861-5744.